Residential Roofing
Keith Trader
Installation Manager
Keith has been with Besel's since 1993.  He has decades of experience with steep roof repairs, replacements, gutters, and carpentry.  Keith has successfully completed OSHA Construction Industry Regulations class, GAF's Center for the Advancement of Roofing's Steep Slope Pro Field Guide Test, and is a GAF Factory-Certified Roofing Contractor.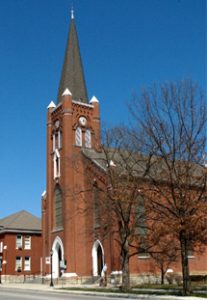 Keith's most memorable job managing a re-roofing project was St. Joseph's Catholic Church, 306 N. Broadway St., Leavenworth, KS, which was for both the church and the steeple (pictured here).  This job had a little bit of everything: very steep roofs, scaffolding and a crane, lead work, and it was in a highly-visible location.
Get to know Keith:
What is your biggest fear? Small places
What are your hobbies? Fishing
If you were a super-hero, what powers would be you have? Be able to fly
What is your favorite holiday? July 4th
What is your favorite movie? "The Outlaw Josey Wales"
Mark Gagne
Roof Repair Professional
Mark has been with Besel's since 2015.  Mark's experience with construction runs deep, having been in the industry since the late-1980s where he started with his family business back in Maine. Mark excels at residential roof repair and maintenance, siding, fascia, soffit, gutters, and on and on.  He is also GAF Factory-Certified Roofing Contractor.
Get to know Mark:
Who is your hero? My Dad
What is your favorite thing about your career? Learning new things.
What are your hobbies? Helping people with things they need done.
What would you do if you won the lottery? Buy a building and give the homeless a place to stay.
Do you have a nickname? What is it? "Lobster".  I'm from Maine, if you can't tell from my accent.