Old buildings require special care. At Besel's, we understand that today's materials and techniques don't always work.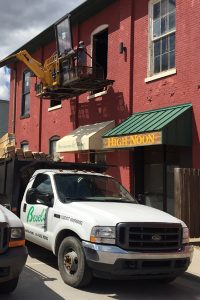 Besel's has more than 20 years of experience restoring historic homes and commercial buildings in Leavenworth. We do a lot of exterior work, repairing or replacing key components like windows, storm windows, and siding. Vital details like corbels, porch floors, handrails, and gingerbread are among our specialties as well.
At Besel's, we know that working on historic buildings is about honoring our community's past while preserving it for the future. The details need to look the way they did when the building was in its prime. And sometimes that can be a real challenge.
Sourcing the right materials is important, and Besel's goes the extra mile. We work with various vendors who specialize in historic products and design.  We've had windows made and even made corbels out of horse hair. Each project is unique.
Besel's has been privileged to work on several historic buildings in Leavenworth, including the Leavenworth Museum, the Harvey House, and the (former) Corner Pharmacy building. Our skilled craftsmen are passionate about preserving our community's treasures.
Let Besel's help protect your historic building. Give us a call at 913-828-4875 to discuss your project.