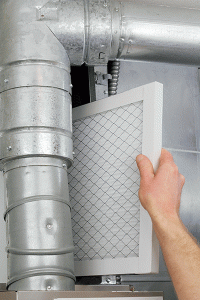 Regular maintenance is the best way to keep your heating and cooling systems running smoothly. That's why Besel's Home Improvement offers affordable HVAC maintenance packages.
For most systems, all it takes is a check-up in the spring and another in the fall. These visits from Besel's will give you peace of mind. And, they'll keep your family comfortable year-round. Plans start at just $179 a year. Call Besel's at 913-682-7000 to schedule your appointment.
Besel's cares for your home
Each maintenance visit includes a thorough inspection of your HVAC system. And, we'll leave behind an extra air filter. That way, you can make a change mid-season. Replacing filters regularly helps keep the air in your home as clean and healthy as possible.
Our team can also check your comfort accessories – electronic air cleaners, humidifiers, etc. – to make sure they're working properly, too.  (These are an additional cost, however.)
Some companies send their rookies out on service agreement calls. Not Besel's. Anyone who touches your HVAC system will be certified by the Environmental Protection Agency (EPA). In addition, we are a North American Technician Excellence (NATE) contractor. Our technicians follow NATE's best practices when servicing your equipment.
Besel's is proud to offer special discounts to customers with service agreements. When you sign up for regular HVAC maintenance, you'll also receive a 10% discount (not to exceed $500, per job) on all our other services:
Heating and air conditioning repair and replacement
Plumbing
Roofing
Remodeling
Handyman jobs
Preventative maintenance can save you money in more ways than one.
HVAC maintenance puts money in your pocket
Routine maintenance keeps your heating and cooling systems running at peak performance. But in addition to saving you headaches, it saves money and energy, too. Regular maintenance:
Keeps utility costs down by maximizing efficiency
Prevents problems before they happen
Keeps your home safe from combustion gases
Protects the validity of your equipment warranty
Plus, regular maintenance can make your system last longer. The average lifespan of an air conditioner and a furnace is about 15 years. Besel's has been offering service agreements for more than 20 years. We routinely have long-term service agreement customers whose equipment is at least 20 years old. Professional routine maintenance is helping them outlive the normal lifespan of their systems.
Service agreements just make sense. To learn more about your options, call Besel's at 913-682-7000.
What's included in a service agreement
A service agreement with Besel's means more than a quick once-over. An EPA-certified technician will carefully inspect and fine-tune your HVAC system. You'll get:
Furnace inspection, cleaning, and service in the fall:

Start furnace
Lubricate all moving parts
Check burner operation and clean if needed
Check heat anticipator
Check heat exchanger for cracks and clean if needed
Check safety controls
Replace standard air filters
Check flue for draft
Check temperature rise through furnace
Check fan and limit control
Check for proper combustion
Check gas line and manifold pressure
Check and adjust blower components for winter use
Check furnace cabinet
Check for carbon monoxide leakage
10% off any other equipment and service needs

Air conditioning inspection, cleaning, and service in the spring:

Start air conditioner
Lubricate all moving parts as needed
Check operating pressures
Check starting capabilities
Check and clean condenser coil
Check safety controls
Replace standard air filters
Check and adjust blower components for summer use
Check thermostat calibration
Check all electrical connections
Check amperage and voltage on motors
Clean condensate drain
10% off any other equipment and service needs
Service starts at just $179 a year!  And, you can add service for additional units, humidifiers, boilers, and high-efficiency filters. Schedule with Besel's today, or give us a call at 913-682-7000 to learn more.