Skilled craftsmanship never goes out of style. But at Besel's, we also use cutting-edge technology to serve our customers.
Technology even impacts routine maintenance work. We track our vehicles so that we know where our team is. This means we're more efficient and can more accurately determine when our technicians will arrive at the next job.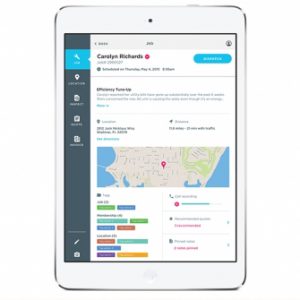 All Besel's technicians carry iPads, which is like having our office in their hands. Our system gives them access to your maintenance history and system details. It also enables our techs to add notes and photos to your file. This technology helps us know the ins and outs of your system and provide the best possible service. It also enables us to take credit card payments at your door, safely and securely.
One of the most groundbreaking tools we utilize is EagleView Reports. It uses high-resolution aerial images to measure roofs. This amazing technology provides all the details we need for a roofing estimate – square feet, slopes, ridges, gullies, edges, and more. Besel's has spot-checked EagleView's data, and we found it to be within a quarter of a square foot.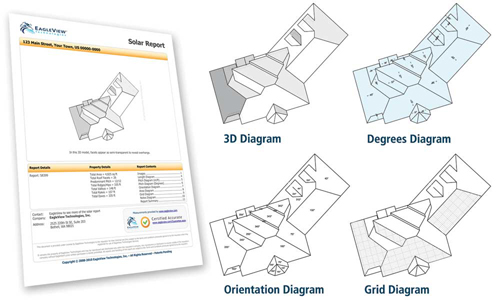 This amazing technology is a huge time saver for our customers. When our roofing specialists come out for a consultation, they already have accurate roof details. There's no need to get out a ladder. Instead, we can start working with you right away to address your roofing needs.
At Besel's, we're always looking for smart new ways to make your life easier. We use technology to enhance our customer service, not replace it. You can always reach us at 913-828-4875.
Mr. Powell was great to work with.
Felix G.
December 8, 2017
Great workers.  Very pleased.  Professional.
Bob R.
May 23, 2017
Thanks for the great service as always!
Wes S.
December 5, 2017
Very efficient, hard worker, professional.
Jim S.
June 5, 2018
Very impressed with quality of work from both technicians.
Jose G.
August 29, 2017
Any time your organization needs a another cheerleader to praise the work your company has preformed, I would be most glad to help sing your praises.  The staff…was in and out very quickly and then even performed a project or two (check light bulb sockets and tighten wiring and replace a light bulb) that were not on their to-do list at the start of the visit.  All the staff have been very professional and able in how they do the work.  The gentlemen who did the repair and painting of the patched water spots did a "hell of a job".  Got what I paid for in the services they performed.
Don D.
December 2, 2017
The crew worked very hard and very fast.  We'd call again.
William R.
January 3, 2018
They area determined to serve their customers to the best of their ability.  I would recommend them to anyone.
Heather L.
May 26, 2018
The workers who put a new support beam in our garage did a great job. John Logan did a beautiful job putting texture on the ceiling, repairing a crack, and painting the area. They left the work area neat and clean. All were courteous and on time. We're very pleased. Thank you!!
Sheila L.
Excellent – He turned off lights and closed doors as he finished each work area.
Joe H.
June 26, 2015
Took care of roof problem right away.  I'm quite pleased.
Ed S.
August 31, 2015
[We] love Dennis.  He always does a great job!!!  Very happy with crew.
Mary A.
February 17, 2018
Very happy.  Plus, glad to know you do this work.
Tammy L.
January 10, 2018
You were trustworthy and honest.
Pat B.
February 13, 2018
John is a true craftsman.
Tom T.
January 5, 2018
I'm happy with the service I receive!
Frank G.
April 17, 2017
Long time customer – 45 yrs.  Your guys have been doing this for a long time.  I cannot think of anything that would improve your services.  We are always very impressed with your employees.  They have always been professional, neat, skilled and very knowledgeable.
Norman M.
May 2, 2017
[We have] always been so pleased with the prompt service she received from your workers. Thank you so much for taking such good care of her.
Cindy B.
March 29, 2017
I have done business with you for a lot of years.  If I have ever had a problem you have always corrected.  Thank you.
Mary D.
June 7, 2017
Thanks for the timely repair, after hours!
Property management company
August 28, 2017
Great job.  Thanks.  We'll be calling you again for future repairs/upgrades.
Jim B.
May 24, 2018
Worker showed up and gave estimate, did job for price quoted, completed in timely manner.
Philip K.
April 21, 2018
We would like to acknowledge the kindness of one of your employees.  Sorry, but we do not know his name.
I was shoveling our sloping driveway Sunday afternoon because my husband has health issues which prevent his doing it.
The young man, who later told me that he installs furnaces, stopped his red pickup, got out, and offered to finish the job.  He would take nothing more than our thanks for his kind help.
I'm writing this because he was wearing a jacket with the Besel's logo.
Gratefully,
Annette D.
February 4, 2018
Don is just a super person and a great plumber…He's our "guy" from now on!
Dave G.
March 31, 2016
Very helpful and easy to work with.
Stephen L.
May 9, 2017
We just had Don Besette install a new kitchen faucet and if your other employees are of the same caliber as Don you are very lucky. Don is a great representative for your company. He was a very friendly person and was very knowledgeable as to his trade. Please let him know that we were extremely satisfied with his work.
Ron O.
March 18, 2016
Always good work and easy to deal with.
Del W.
June 3, 2017
Great job…in a timely manner.  Have recommended you to several family and friends.
Gary S.
December 28, 2017
I have used your company for over 10-years here in Basehor and Leavenworth. Adam Patterson has consistently been a model for professional service. He is well informed, articulates what he has done, needed, polite, asks if I have questions or concerns, etc. I could not ask for a better service person. You're lucky to have him!
Gerald L.
June 11, 2018
Quality work, reliable, crew cleans up great afterward.
Ken G.
February 16, 2017
Leon and Julio were a pleasure to have around.  Clean-up of yard was excellent.
Ray B.
November 14, 2017
Absolutely 100% satisfactory in every way.  Great company.  Great people.  Thank you!
Nick D.
February 1, 2016
Service was great!  Dennis a a very professional job for me.  He carefully checked my furnace and fixed a few things to make it work better.  He took time to explain how the thermostat works and point out some things I might need to know.  I would gladly call Dennis again.
Faye S.
February 1, 2018
I really liked Jim.  So far, job is great.
Tim F.
July 10, 2018
Keith and the crew are excellent to work with!  I will gladly recommend Besel's to others!
Pat F.
September 26, 2017
The crew did a fantastic job!  The best we've ever had, and hope to have them again in the future.
Raymond C.
October 17, 2017
We appreciate that the work is explained.
Cathy C.
October 13, 2017
Outstanding job and a fair price.
Charles R.
April 5, 2016
I am so happy with the beautiful roof. Thank you so much!
Larry C.
April 28, 2016
The house looked great after the work was complete.  I found Mr. Powell to be very professional.
Marvin N.
November 5, 2017
I have been so pleased and happy with the jobs done on my house!
Joan S.
May 29, 2018
Thanks very much for the quality work.
Susan V.
January 17, 2018
Great service always, and very professional.  Always listening to my house problems and giving advice.
Mary W.
August 15, 2017
Experience and consistency!  Dennis installed my furnace 19 years ago, my A/C 8 years ago, and now my new furnace in 2018!
Katie F
February 5, 2018
It is a comforting feeling to know we can always rely on Besel's to do what they promise at a very fair price.
Julie L.
May 23, 2017
Don was great!  We would love to use this company in the future if needed.
Chris M.
December 27, 2016
Love the final results and professionalism and friendliness of our installer.  Plus, it came in under the initial bid.
Rachel B.
June 16, 2017
Mark is our guy!  We trust and like him very much.  We will call Besel's when we need a new roof.
Dave G.
November 29, 2017
Requested estimate on Monday, work completed on Thursday!
John K.
June 6, 2017
The whole experience was great!  Friendly, courteous, helpful, just great!!  Great job!!
Beverly T.
April 11, 2018
The guys' personalities were appreciated.  They did only what needed to be done, and did it quickly.
Clyde C.
November 16, 2017
We were very pleased with Besel's roofing.  Keith was so helpful and the crew was great.
Cathy C.
October 6, 2017
History of working on my homes.  Continue to provide quick, professional, thorough service.  I especially appreciate personal phone calls to let me know problems found, work accomplished and final results as this house is a rental and I do not live in the area.
No name given
December 21, 2016
The guys were SUPER nice and tidy! Will use again
Mollie R.
March 17, 2016
Excellent service, very quick arrival and solved problem efficiently.  Thanks.
Fran B.
February 21, 2017
Builder recommended.  Your technician was very professional, maybe since he is an Army vet with experience in maintenance. He explained everything and did a very complete job.
J.C.
May 2, 2017
Even though there was storm damage everywhere they came and finished the work in short time.
David K.
July 5, 2017
You all did a great job. God bless you all.
Dorothy G.
March 27, 2018
Thanks for the prompt response in time of break-in of basement door.  Great service
John H.
May 9, 2017
From phone call to job finished – less than 3 hours.  Love the immediate help.
Jane D.
October 10, 2017
Mr. Lansing is courteous and easy to work with.  I am a fairly new customer, but because of good service with installation of guttering I called to get the cleaned out.  I will use Besel's again in the spring.  Thank you.
Scarlet R.
December 16, 2016
Continue to do what you do so well…provide excellent service.
Bill W.
June 15, 2017
Bill C.
September 15, 2016
Prompt response.  Excellent work.  No complaints
Wayne B.
November 29, 2017
On time, friendly, did an excellent job!
Ed S.
April 24, 2017
Like that I don't have to be present most of the time for outside repairs.  Thank you.
Silvia S.
March 23, 2018
Used in the past.  Continue great service.
No name given
May 24, 2017
Very thorough and professional.
Duane A.
November 3, 2017
We want you to know how much we appreciate Adam's hard work in repairing our furnace when it went out on a cold Friday night.  Due to a problem with our propane tank and having to get a valve in KC on Monday, we were without heat until then.  We had space heaters so we were warm.  Adam kept us informed as to when he would be back.  He is a very nice, polite young man.
Martha G.
February 17, 2018
Very professional, considerate, and respectful.
Fred T.
June 5, 2018
My husband said the guy seemed knowledgeable on the service he was providing and was impressed that he was able to comb out the fins in the short amount of time he was here.
Gina L.
July 5, 2017
Thank you for a very good job.
Virginia H.
November 14, 2017
Debbie H.
February 6, 2018
Thanks to Randy and Taylor and Adam for really rushing and turning over every stone to get my A/C fixed.  Besel's has always taken good care of us – but this was over the top.  Thank you.
MJS
June 6, 2018
Roofing is messy, but the crew did a great job on the roof and clean up!
Margaret M.
July 18, 2017
John S.
December 27, 2016
Thank you for quality and efficient work.
John H.
November 14, 2017
Mike F.
February 13, 2018
The workers who put a new support beam in our garage did a great job. John Logan did a beautiful job putting texture on the ceiling, repairing a crack, and painting the area. They left the work area neat and clean. All were courteous and on time. We're very pleased. Thank You!!
Sheila L.
May 4, 2016
Thank you for the professionalism of your company.
Sharon D.
August 15, 2017
We will use Besel's for future home improvements.
Tim T.
November 7, 2017
Corrected another company's mess up in a professional manner
Richard B.
January 19, 2016
Mark did a great job explaining and delivering estimates.
Harry B.
November 11, 2017
I recently had storm/wind damage to my home.  Jim came out the day I called and had some men come out that day to remove the hanging siding.  Jamie & Brian came out to install new siding. Everyone involved was very professional, nice and the work was done in a timely manner.  Besel's has installed for me siding, roof and heating/cooling system.
Emily T.
July 10, 2017
Just continue the good work.
Chareal M.
May 24, 2017
Everything went smoothly.  Great work and you have a great team.
Marcos C.
January 3, 2018
Appreciate your work.  Thank you.
Dominic J.
April 24, 2017
Thank you for your quick service.  I appreciate it.
Mary D.
March 20, 2018
Besel's always does an excellent job.
Edna K.
October 31, 2017
Consistently great service.
Mary W.
December 17, 2017
Always a pleasure working with Dennis – very professional!  Bob has also been great to work with.
Anna Z.
April 17, 2018
Just continue as always.  Hire the best, pay the best.  Treat your employees and customers well.  We'll keep coming back.
No name given
December 18, 2016
The service tech Adam was very professional and explained everything he was going to do and when finished went over what he found or didn't find. Adam is part of why I choose Besel's.
Judy R.
June 4, 2017
The crew was very nice and helpful when I would ask questions.
Karen G.
July 5, 2017
After going over the roofing bid with Keith Trader, I felt confident in having Besel's do the work.
Gary M.
May 22, 2018
Good job.  Explained what they were doing.  Courteous and helpful.
Tammy W.
June 7, 2017
No complaints.  Would love this service every spring. Thank you!
Barbara S.
April 24, 2017
Excellent work, great people, very pleased as always with Besel's.
Jim S.
May 24, 2018
Good job – Friendly service.
Judy G.
November 4, 2017
We are very happy with our new HVAC system.  You were very professional and easy to work with.
Allison & Tim V.
May 21, 2018
Every time I have used Besel's [they] got the work done on time [and] to my satisfaction.  Definitely can recommend.
Terrell M.
March 3, 2017
Showed up on time, very friendly. Work was done fast and done right!
Walter P.
April 14, 2016
They did a wonderful job fixing our porch.  Looks like new.  Thanks.
Frank R.
December 16, 2016
Great crew, on time, cleaned up.  Thank you.
Lisa G.
January 6, 2018
Always neat, and clean up after completing job.  Always show up on time or call when on their way.
Sharon R.
June 19, 2018
Professional company.  Staff courteous and efficient.  Installation completed in a timely manner.  Clean-up was great.
Patty W.
January 4, 2018
You provided quality work at a very reasonable price.
John K.
February 23, 2016
Thanks.  No squirrels in attic.
John S.
August 15, 2017
Mark was a great guy – very thorough and fast.
Dave G.
February 25, 2016
Responded quickly and did an excellent repair job.
Clara B.
July 10, 2018
Worker was very polite.  The work was completed in a quick and timely manner.  Great job.  Thanks.
Benica B.
November 11, 2017
Bob did a good job explaining furnace/AC.  [We were] pleased with the installation.
Dave T.
October 12, 2017
[I] always receive excellent service!
Ed S.
May 23, 2017
Very quick response time to my problem and the price was very reasonable for the repair!
Debbie G.
April 14, 2017
Thanks for 24+ years of service!
J.G.
March 28, 2017
Don was on time and friendly. I discovered a plumbing problem with my water heater just before Don arrived to remove the hot water hose. He explained what was causing the leak from my water heater and was able to fix the problem.
Gwynn P.
March 22, 2016
Completed job in a timely manner.
Angela T.
April 18, 2018
Highest quality of work done every time.  We've called Besel's for all our home improvement – like calling family.
Jane D.
March 3, 2018
When I lived in LV I originally called Besel's due to a friend's referral. I still own a home in LV and I call upon Besel's as I was always very happy with their work in the past.  I trust them completely in taking care of my home even though I'm not there.  Just continue to do professional work.
Beth W.
May 27, 2017
Sandy B.
November 14, 2017
Keep doing what you're doing!  Great job!  Thanks!
Ken J.
May 25, 2017
Your team solved a problem that others were unable to fix.  They were quick and professional.
B.G.
June 14, 2018
I have used Besels twice on roof repairs. Always quick to response and cost is affordable Very please with the services received.
Michael J.
January 27, 2017
I will always call Besel's when I have a problem.
Libby E.
February 26, 2018
As always, the work was excellent.  I recommended to my two neighbors, who are also Besel's customers, for the same repairs.
Ron O.
April 10, 2017
Thanks for your quick response.
Steve W.
June 13, 2017
Cecil S.
November 14, 2017
I am so happy with [the] beautiful roof.  Thank you so much
Larry C.
May 2, 2017
I called with a small job of shingles blowing off.  The north was hit hard.  Keith told me when he could get to it – and did!!!  Thanks.
Ken M.
April 10, 2017
Did a great job!  Started in the morning and were finished that evening.  Clean and neat.
Jennifer L.
August 22, 2017
Crews were courteous and professional. Larry and Keith were GREAT to work with.
Duane E.
April 26, 2016
Adam Patterson was very prompt, able to answer questions we had, very professional but friendly, made useful suggestions.  Very pleased with his service.
Sandra R.
April 18, 2017
Quality work.  Dependable crews.  Easy to work with.
Nancy H.
June 28, 2017
Working with the Besel's team was a pleasure!  They were very responsive to my needs
Cliff H.
May 9, 2017
Jim and his crew did an outstanding job!  We are happy to have them back.
Richard B.
December 7, 2017
Thank you for everything! We love having a company like Besel's around to help us take care of our home.
Lisa N
May 9, 2016
Best customer service by an contractor I have ever hired.  Taylor was great.
Jim H.
May 26, 2018
Dennis is an excellent technician.  Had a unique, tough problem.  Solved it, and fixed quickly.  Exceptional.
Bruce H.
June 28, 2017
You guys are handyman Rockstars 🙂
Lisa N.
May 9, 2016
Crews arrived early and worked late.  Didn't play music, few cigarette breaks, and very courteous.
Jerry R.
November 3, 2017
You  have been very good anytime we need.  Thank you.
Larry C.
December 17, 2017
Nice job, well done despite hot weather. Nothing left for us to drag to the curb!!
Robert S.
December 1, 2015
Furnace wasn't kicking-on correctly.  Serviceman quickly came to the house, found the problem quickly, fixed it, and did a diagnostic on the entire system. We've used Besel's a number of times over the last 22 years for various repairs, and we have always been happy with their performance.
Curt P.
January 3, 2018