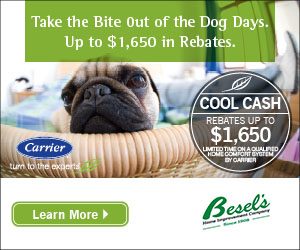 Wondering if your cooling unit will squeak by this summer? Don't. With up to $1,650 in Cool Cash rebates, the season to save on Carrier quality is now. Explore our efficient Carrier innovations before your Cool Cash window closes. Call Besel's today at (913)682-7000 to schedule your home visit!
Homeowners may qualify for a Cool Cash rebate by purchasing qualifying Carrier equipment between March 1, 2018 and May 31, 2018 in southern regions and between April 1, 2018, and June 30, 2018, in northern regions. Equipment must be installed by June 30, 2018, in southern regions and July 31, 2018, in northern regions and rebates submitted by June 30, 2018, by 6 p.m. CT in southern regions and July 31, 2018, by 6 p.m. CT in northern regions.
Subject to credit approval. Contact Besel's for more information.
Must have valid ID, active bank account and steady income. Ask for details.  Credit is subject to approval. For questions about financing fees, payment options, or APR, please contact Besel's directly.
For existing homeowners and those building a new home who install qualifying geothermal heating and cooling systems, a one-time tax credit is available totaling 30% of the installed cost of a residential ground loop or ground water geothermal heat pump. To qualify for this credit, the system must meet current geothermal ENERGY STAR® requirements and be installed prior to December 31, 2019.
For details go to the ENERGY STAR® website. This notice is not to be considered tax advice. See your tax professional to determine how these credits would apply in your circumstance.