Prep your deck
May. 26, 2017
by Besels
0 Comments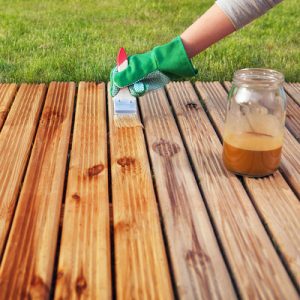 It seems that spring has sprung. And you know what springtime means: mold, mildew, and wood rot!
Of course, we're talking about decks. Spring is an ideal time to clean your deck, assess and repair any damage, and stain the boards. A little work now will keep your deck beautiful and safe.
At Besel's, our skilled handymen build, repair, and maintain decks. Whether you'd like to replace an existing deck, install a new one, or just ensure that the one you've got will last for years to come, we've got you covered.
Caring for Your Deck
When it comes to springtime deck maintenance, here's what we suggest:
Clean it up. Remove any debris on the deck and between boards – including where the deck boards touch the joists. A little sweeping and digging debris out with a putty knife will prepare your deck for pressure washing. Keep the wand moving so you don't gouge the wood. Then, let your deck dry overnight.
Give it a hard look. Once the deck is clean, you can more easily see what's going on. Look for boards that are split or loose and nails that have popped out. Remember that soft or discolored areas can signal rot, mildew, or mold.
Fix what's broken. This could mean replacing a few nails. Or it might involve replacing entire sections of the deck. A specific to-do list and having all materials before starting will keep this task on-track.
Seal it up. A new coat of stain or sealant will protect your deck in the months ahead. Your deck determines the product that's right for you. Is the deck wood or composite? In the shade or full sun? And what look do you want? There are many options available.
DIY or Professional Deck Care?
Many homeowners tackle these tasks themselves. Deck maintenance is doable for many homeowners, although it can eat up precious weekend time.
If you'd prefer to leave it to the professionals, Besel's is happy to help. Our experienced craftsmen can assess your deck, then discuss a plan of action with you before starting any work. They can also ensure your deck is up to code with sturdy railings, correctly spaced stairs, and balusters that keep your family safe.
Put our experience and eye for detail to work for you. Give Besel's a call at 913-828-4875 today. We'll send our handymen out to get your deck ready for the warm months ahead.