Meet Don – Plumber and Water Purification Specialist
Apr. 19, 2016
by Besels
0 Comments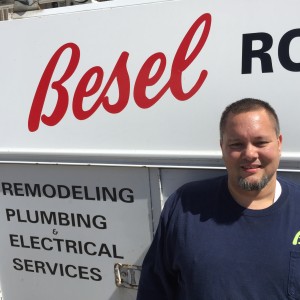 Besel's is pleased to welcome plumber Don Bessette. He joined us a few weeks ago. Although Don is new to Besel's, he's very familiar with the Leavenworth area. And he's very familiar with plumbing.
"I'm originally from Atchison, but I've worked around Leavenworth for years – in Leavenworth and in the surrounding areas and towns," Don says. "I started my career in the army as a pipe fitter, and I've been in the field ever since."
Since joining the army in 1987, there's not much in the plumbing world that Don hasn't seen. Now, he's focusing on plumbing and water treatment for Besel's. If you're having a problem or are concerned about the quality of your water, Don is your guy.
"In addition to doing plumbing, I'm also doing water treatment – reverse osmosis and water softeners," he says. "If anybody is interested to see what's in their water and how hard it is, let us know. We'll come out and test it."
Water-quality testing is yet another of Besel's many services. While we pride ourselves on going above and beyond for our customers, Don really has some kind words for us.
"Besel's has been a family-owned business for many, many years," he says. "They've got a family name behind them, so they're only going to hire the best."
Don is highly skilled, and it runs in the family.
"My grandfather was a master plumber and pipefitter in the Leavenworth area, and my great-grandfather used to be a contractor in Leavenworth years ago," he says. "My understanding is they built a lot of the houses in north Atchison."
That kind of pride of workmanship is what Besel's is all about. We strive to provide the highest quality service. Don shares that focus, and we're excited to have him on our team.