Plumbing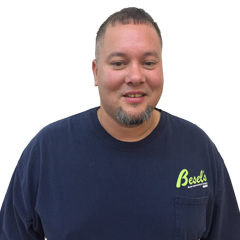 Donald 'Pistol' Besette
Plumbing Repair & Replacement Professional
Don has been with Besel's since 2015, but he grew up around plumbing, his father and grandfather both having been in the trade.  His formal training began in 1987, when Don joined the Army as a plumber/pipe fitter.  He served in numerous locations, include Operation Desert Shield/Desert Storm, Germany, Honduras, West Point, and Ft. Riley.  After leaving the Army, Don took his talents to the private sector and has been performing residential and commercial plumbing service and repair ever since.  Don has numerous certificates, including OSHA 30, OSHA Confined Spaces Entry Training, OSHA Competent Person, OSHA Fall Protection, OSHA Excavation & Trenching; and is a certified backflow tester.
Don is also community minded, having spent time as a volunteer fireman at the Easton Township Fire Department and as a city commissioner in Easton, KS.  Don was also featured in one of our recent blog posts, here.
Get to know Don:
If you could choose any era to live in, which would it be? 1930s and 1940s (pre-WWII).  Life seemed so much simpler back then.
What is the craziest thing you've ever done? On a dare from a radio station (Q-104), I had to wear a sumo suit and hitchhike from Columbia, MO to Kansas City, MO.  I was accompanied by radio personality Dangerous Dave.
What would motivate you to run a marathon? If I was being chased.
What is the best thing about living in your city? I grew up here.  I love being surrounded by friends and family.
Would you rather go without junk food for a year or go without TV for a year? Junk food.  TV is the window to the world.