Prep your deck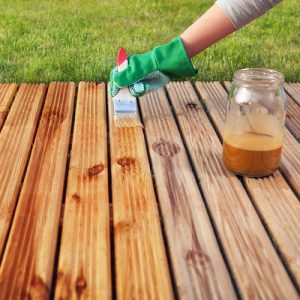 It seems that spring has sprung. And you know what springtime means: mold, mildew, and wood rot!
Of course, we're talking about decks. Spring is an ideal time to clean your deck, assess and repair any damage, and stain the boards. A little work now will keep your deck beautiful and safe.
At Besel's, our skilled handymen build, repair, and maintain decks. Whether you'd like to replace an existing deck, install a new one, or just ensure that the one you've got will last for years to come, we've got you covered.
Caring for Your Deck
When it comes to springtime deck maintenance, here's what we suggest:
Clean it up. Remove any debris on the deck and between boards – including where the deck boards touch the joists. A little sweeping and digging debris out with a putty knife will prepare your deck for pressure washing. Keep the wand moving so you don't gouge the wood. Then, let your deck dry overnight.
Give it a hard look. Once the deck is clean, you can more easily see what's going on. Look for boards that are split or loose and nails that have popped out. Remember that soft or discolored areas can signal rot, mildew, or mold.
Fix what's broken. This could mean replacing a few nails. Or it might involve replacing entire sections of the deck. A specific to-do list and having all materials before starting will keep this task on-track.
Seal it up. A new coat of stain or sealant will protect your deck in the months ahead. Your deck determines the product that's right for you. Is the deck wood or composite? In the shade or full sun? And what look do you want? There are many options available.
DIY or Professional Deck Care?
Many homeowners tackle these tasks themselves. Deck maintenance is doable for many homeowners, although it can eat up precious weekend time.
If you'd prefer to leave it to the professionals, Besel's is happy to help. Our experienced craftsmen can assess your deck, then discuss a plan of action with you before starting any work. They can also ensure your deck is up to code with sturdy railings, correctly spaced stairs, and balusters that keep your family safe.
Put our experience and eye for detail to work for you. Give Besel's a call at 913-828-4875 today. We'll send our handymen out to get your deck ready for the warm months ahead.
Award: Best of HomeAdvisor 2016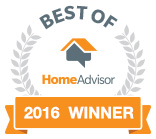 Besel's Home Improvement is pleased to announce HomeAdvisor named the company a winner of the 2016 Best of HomeAdvisor Award. The Best of HomeAdvisor Award recognizes top-rated industry professionals in the HomeAdvisor network.
"We know what we're capable of, but it's always nice for third-party verification of the quality of our service", said Besel's Home Improvement's President, David Greenamyre.
"Each year millions of homeowners trust HomeAdvisor to help them find a prescreened professional for their home projects," said HomeAdvisor's CEO Chris Terrill. "Besel's Home Improvement's business exemplifies this trust by exhibiting superior work practices, premier customer service, and overall being a valued resource for the home improvement industry. This prestigious award is only presented to the top professionals in the HomeAdvisor network."
To be eligible, winners were among the highest rated service professionals in the HomeAdvisor network and had at least three reviews submitted in the previous six months. Professionals in the HomeAdvisor network undergo a criminal and financial background check prior to being accepted into the network and are customer-rated and reviewed.
HomeAdvisor's home services marketplace helps homeowners find prescreened home professionals and instantly book appointments online, through HomeAdvisor's award-winning app, and through Smart Home devices including Amazon Echo and Apple Watch. To learn more about HomeAdvisor visit HomeAdvisor.com, or contact Besel's Home Improvement directly at (913) 682-7000, or Jobs@Besels.com.
2015 Readers' Choice Awards Winner
Besel's Home Improvement recently won the Leavenworth Times' 2015 Readers' Choice Awards for Best Roofing Company (runner-up), Best Gutter/Siding Company, and Best HVAC Company.  We work hard to deliver a quality product, but it's still nice to hear we're doing well. Thank you to everyone for the support.
Readers' Choice Awards
We are honored to have received three Readers' Choice Awards from the Leavenworth Times: Best HVAC Company, Best Gutter/Siding Company, Runner-Up Best Roofing Company.  We work hard to deliver quality work, so it is always nice to hear we're doing it right.